Tubac Festival of Arts – February 8 – 12
February is going to be an exciting month! First up, come celebrate Tubac's 64th annual Festival of Arts with Handmade Copper Fountains. This is Southern Arizona's single longest running art festival with over 250 fine artists exhibiting their talents. Less than an hour drive from Tucson to enjoy this beautiful village and all it has to offer. Read more about the village of Tubac on their website and see their adorable village map here.
Roberto // 520 331 4127     
More Upcoming:
Fountain Hills Festival of Fine Arts & Crafts – February 24 – 26
Up next, I will be in the North East Phoenix Valley to celebrate the 49th year of the festival! Three days of fine arts, food, and festivities, this is a great event to come spend an hour or the whole day. With arts of all kinds throughout there is sure to be something for everyone. Read more about the long standing Fountain Hills Festival of Arts and how many people are drawn to the event each year on their website here. If you're in town for the festival and looking for more to do, check out the Visit Phoenix website.
Past art shows:
Fountain Hills – Phoenix Valley
In November, I visited the North East of the Phoenix Valley at the Fountain Hills Festival of Arts. Always a pleasure to visit the art enthusiasts of central Arizona. I will be back here again for the Spring Festival the weekend of February 24th. See above for details.
Santa Fe
In September, the distinctive open-air arts and crafts market in Santa Fe, NM features one-of-a-kind treasures from booths that line the historic plaza. Select from unique hand-fashioned jewelry, pottery, chic clothing, stylish leather, paintings, photography, handsome wood products, and countless other items. Santan Fe is great this time of year. Highs of around 76-80 degrees and in the low-mid 50s at night. Sante Fe sits in the Sangre de Cristo foothills and is the capital city of New Mexico. It's renowned for its Pueblo-style architecture and as a creative arts hotbed. The city itself is art.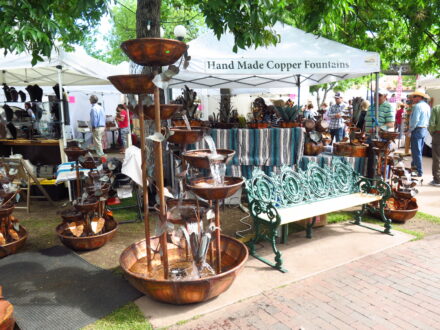 Here is my booth at Santa Fe Fiesta Art Show.
Ruidoso
Thank you to all the copper fountain lovers in Ruidoso. Ruidoso is beautiful in the summer. Highs of around 85 degrees and in the mid-50s at night. If you plan to visit bring a jacket. Ruidoso is a wonderful quaint mountain town. Great places to hike and marvelous restaurants along a winding stream. Did you know that Ruidoso translates "noisy waters". For more information on Ruidos, click here.
Las Cruces Arts Fair
Thank you to all my friends in Las Cruces, New Mexico for visiting me back in March of 2022. It is always a pleasure to Join the Dona Ana Arts Council in New Mexico. Las Cruces is a beautiful city to spend time in whether it's at an art fair or the White Sands National Park or the Organ Mountains–Desert Peaks National Monument. If you're attracted to indoor entertainment, find a football or basketball game while you're in town. Click here to find more information about Las Cruces, New Mexico.
Patagonia
Thank you to all everyone who visited me at the Patagonia art show in southern Arizona. This art show is in the heart of Patagonia, you can not miss it if you drive thru the town. Patagonia is one of those unique small Arizona towns. The Town of Patagonia is appropriately proud of our history and distinctive character. The community is quirky and we like it that way. Visitors tell us that Patagonia's unique spirit is easily perceived and is their reason to stay or to return. Situated at over 4,000 feet elevation between the Santa Rita Mountains and the Patagonia Mountains in the riparian corridor of Sonoita Creek, Patagonia is spectacularly rich in both natural and human assets. The distinguishing vision of our community is to protect and build sustainably upon these assets and our town's character. For more about Patagonia and all they have to offer visit their website.
Check back here for my upcoming art shows or give me a call at (520) 331-4127
Visit me on Etsy!