Hello Copper Water Ffountain lovers. I am halfway thru the summer and the art show season is just starting for 2021. What a year and a half it has been since my last art show. Look for me at the following Art Shows. I hope to see you at.
Ruidoso, New Mexico

is my next AND 1st art show in 2021 on July 30, 31 and August 1. The art show is held indoors at the Ruidoso Convention Center. 111 Sierra Blanca Dr, Ruidoso, NM 88345. Turn at the Post Office off Mechem Dr.

(CICK HERE)
My booth is # 107. Straight all the way back on the 1st row. Right next to the exit doors.
Ruidoso is great this time of year. Highs of around 85 degrees and in the mid-50s at night. So, if you plan to visit bring a jacket. Ruidoso is a wonderful quaint mountains town. Great places to hike and marvelous restaurants along a winding stream. For more information on Ruidoso (CLICK HERE)
Roberto / 520 331 4127 https://handmadecopperfountains.com/
LABOR DAY weekend 2021 Santa Fe, New Mexico
The rest of the month of August I need prepare for the Art Show Labor Day weekend in Santa Fe, New Mexico. In 2021 Labor Day is Monday September 6th, so the art show will be September 4th, 5TH and 6th. (Click here) for more information.
My booth is located in the center of the Santa Fe Plaza. Down the path from Lincoln and San Francisco Streets. See a photo of my booth at the Santa Fe Art Show. (click here for map)
Santa Fe is a very unique town. (Click here) for more information. It has a long history and many historical locations. FYI, Santa Fe is the oldest capital in the US. It was established in 1610 by the Spanish. (from Google) Great restaurants and museums. And the weather is wonderful. High of 85 maybe?? Also, the original burning man. The Zozobra. One of New Mexico's most historic traditions, (click here) for more information.
The next Art Show is in Patagonia Arizona. A quaint town next to the Patagonia Mountains and Lake. Date Oct 9th and 10th. (click here) for more information.
Then in November the Fountain Hills Art Festival and the Tubac Art Festival. Then in December the Tempe Festival of the Arts. Mill Ave.
And thats all for 2021. May 2022 be even better.
Here is my booth at Santa Fe Fiesta Art Show.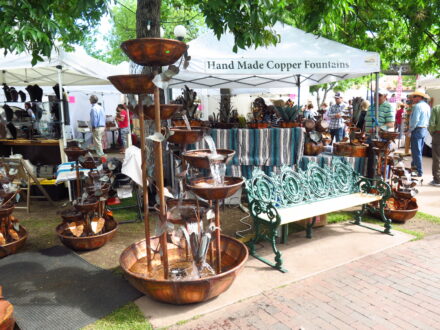 Past art shows:
My last art show was in Las Cruces, New Mexico on March 6th, 7th and 8th 2020 at the Las Cruces Arts Fair (click for info) at the Convention Center, 680 E. University at Union Ave, Las Cruces, New Mexico 88001 (click for map)
Las Cruces in a city in southern New Mexico, (click here for information)
Next to the lovely and historic town of Mesilla, (click here for information)
ArtFest of Scottsdale this weekend November 23rd and 24th.
Just before Thanksgiving, I was at the ArtFest of Scottsdale. Join me on November 23 & 24 (10am to 5pm each day) at the Civic Center Plaza in the heart of "Old Town Scottsdale". I'll be in space 161, just to the left of the "Love" Sculpture (west of the "LOVE" Sculpture). The ArtFest of Scottsdale is one of the top fine arts festivals in the southwest. Artist come from all over the United States to show their art work at this festival. This art festival has over 150 artists, a great kid's area by the local YMCA, 10 international food booths and 2 stages of live entertainment and several roving musicians.
Free admission and parking to the ArtFest of Scottsdale.
Plenty of parking at the Scottsdale Library and all around the ArtFest.
Address 7380 E. 2nd St. Scottsdale 85251
Oct. 12th and 13th, I will be at the Patagonia art show in southern Arizona. Please stop by my booth if you are in the neighborhood. The art show is in the heart of Patagonia, you can not miss it if you drive thru the town. This is a one of those unique small Arizona towns. The Town of Patagonia is appropriately proud of our history and distinctive character. The community is quirky and we like it that way. Visitors tell us that Patagonia's unique spirit is easily perceived and is their reason to stay or to return. Situated at over 4,000 feet elevation between the Santa Rita Mountains and the Patagonia Mountains in the riparian corridor of Sonoita Creek, Patagonia is spectacularly rich in both natural and human assets. The distinguishing vision of our community is to protect and build sustainably upon these assets and our town character. In December I will also be back at the Tempe Festival of the Arts. December 4th, 5th and 6th.
I may add a few new art show and will update my schedule so please check back or give me a call.
Roberto 520-331-4127