Update May 2020 (Coronavirus)
This Pandemic from the CoronaVirus has created a very difficult time. Soon we may all be affected when our family, friends, and even ourselves contract the virus, especially those with very serious consequences. Being safe, washing our hands more often and social distancing should help lower the spreading of the virus. This should be our utmost priority.
Social distancing, while important at this time, creates other problems. I personally am home creating with copper, which I love to do. But my supply of copper and the welding supplies necessary are running low. Just like most of you, I enjoy meeting new people, selling my fountains and participating in the festive atmosphere at events. At this time most art festivals and other events I participate in have cancelled, rightfully so.
Now you may also visit my fountains on my Etsy shop (click here) to look at what I do or contact me. I am still working on using the computer, so email me at roberto@hmcfs.com
I look forward to seeing you again soon and getting to know any of you who buy online when we connect in person at another event in the future. The next art show or festival that might take place is Challenge New Mexico June 6th and 7th in Santa Fe New Mexico. But that show is not for sure as of this time.
Once the current climate (Coronavirus) has been removed, I will let you know what shows/festivals I will be attending.
Previous Art Festivals
In December before holidays, I was at

Tempe Festival of the Arts

. (click here) on December 6th, 7th and 8th (10am to 5pm each day) at Mill Avenue in front of Jack in the Box. I was in space 1410, just to the North of University Drive, by ASU. (click here for Festival map)
Before December and just before Thanksgiving, last year Roberto was at the ArtFest of Scottsdale. on November 23 & 24 (10am to 5pm each day) at the Civic Center Plaza in the heart of "Old Town Scottsdale". I was at space 161, just to the left of the "Love" Sculpture (west of the "LOVE" Sculpture). The ArtFest of Scottsdale is one of the top fine arts festivals in the southwest. Artist come from all over the United States to show their art work at this festival. This art festival has over 150 artists, a great kid's area by the local YMCA, 10 international food booths and 2 stages of live entertainment and several roving musicians.
Free admission and parking to the ArtFest of Scottsdale.
Plenty of parking at the Scottsdale Library and all around the ArtFest.
Address 7380 E. 2nd St. Scottsdale 85251
I wish to thank all the folks who are enjoying the fountains they purchased from me and all those who visited my booth in 2019. I had a great time and enjoyed meeting you all.
Call me if you have questions about my copper water fountains.
520-331-4127
Thank you for your interest in my hand made copper water fountains.
Hope to see you soon.
Here is a photo of my booth at the Tempe Festival of the Arts. It was a good show. Had lots of nice comments and sold a number of fountains. Thanks to all my customers and the kind words.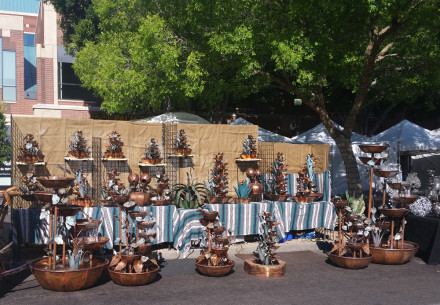 My booth at the Tempe Festival of the Arts on Mill Avenue.
I am having my website updated so not all the fountains will be displayed. Added a few news fountains under the specialty fountain listings.
Here I am creating my fountains.
I make a variety of copper fountains, from the popular Rain Tree Table Top Fountain, all the way up to seven-foot waterfalls, Custom Orders and Specialty Fountains. I have multi-tiered copper water fountains as well as indoor waterfalls to fit every space and budget. Follow the links on the left to see the different types of copper fountains that I make, and to learn more about my copper water fountain art.
I sell my fountains at a variety of Art Festivals in Arizona, New Mexico and Texas. Be sure to check see my schedule of upcoming shows, to see if I am coming to your town. (click here) You can also call me, in Tucson, AZ. I would be happy to answer any questions or to take your order over the phone and can ship anywhere in the continental United States.
Whether on a desktop at work or as a garden fountain, customers say that my fountains create a tranquil space in their lives. With the sound of cascading waters, my fountains bring a sense of balance, of feng shui, to many urban desktops and locals. Throughout my career as an artist I have noticed that people have an intuitive response to my fountains, which makes me thoroughly enjoy being a copper artist. I hope you enjoy my copper water fountain art in your home as much as my family and I enjoy ours.
I update my website every month or so. Please come back soon and see what is new. If you have any questions, Please call my cell phone at (520-331-4127).
Thanks again, Roberto